LYNN NEWS ROUND-UP
FEBRUARY 1,  2021
See our COVID-19 related posts by clicking here.
---
The City of Lynn is currently in Phase 3 Step 1 of the MA Reopening Plan.  Click here for more information.
---
COVID-19 testing in Lynn this week
The City of Lynn was selected to be a part of the state's "Stop the Spread" Initiative back in July. Please note that the COVID-19 testing s
ites located at Lynn English High School and behind the Western Avenue Fire Station are now closed.
Other COVID-19 testing sites have been set up and are available for residents to visit. More information about testing is below.
PLEASE SEE LIST BELOW THIS SECTION FOR STORM-RELATED ANNOUNCEMENTS, INCLUDING INFORMATION FOR
VACCINATION & TESTING SITES IN LYNN.
---
PROJECT BEACON




Located at 398 Blossom St. in Lynn



The City of Lynn has been selected as one of four communities across the Commonwealth for a COVID-19 express testing site through at least March 31st. The site will be run by Project Beacon which specializes in high-volume appointment only testing.
The site will be located at the Blossom Street Extension parking lot, commonly known as the Lynn Ferry Terminal, and will have the capacity to perform up to 2,000 tests per day once the site. Residents will be able to schedule their test appointment in advance, drive up to the site at their assigned time, be tested from the comfort of their car, and receive their results within 24 hours. There will be no pedestrian, walk-up access allowed at this site. For all Massachusetts residents, there is no cost for this test, no health insurance is required, and you will not be asked about your immigration status.
Residents can create an account, make appointments, and view their test results all through one, online platform for the Project Beacon COVID-19 Express Testing site at the Blossom Street Extension by visiting app.beacontesting.com. If you have questions about getting tested or issues regarding appointments or results at Project Beacon, please go to www.mass.gov/express-testing,  call Project Beacon's Call Center at 617-741-7310, or email at help@beacontesting.com. Appointments will become available several days in advance at a time.
MANNING FIELD (MONDAYS ONLY)




Located on Ford St. in Lynn



The City of Lynn is pleased to announce a new COVID-19 testing option through a partnership between Mass General Brigham and North Shore Medical Center. A mobile van will offer free walk-up testing for asymptomatic Lynn adults and children every Monday from 1:00-5:00pm in the Manning Field parking lot (entering on Ford Street) for the duration of the winter and spring.
This program is made possible in part through funding from the National Institutes of Health grant and RADx-UP (Rapid Acceleration of Diagnostics in Underserved Populations). For more information please visit http://www.kraftcommunityhealth.org/mobile-covid-testing.
LYNN COMMUNITY HEALTH CENTER
Located at 50 Blake St. in Lynn
Testing for COVID-19 is available for everyone in the Greater Lynn Community at Lynn Community Health Center through March 31st.  You may be tested regardless of your symptoms or exposure to COVID-19. Call 781-581-3900 for an appointment.  Appointments are strongly recommended, limited walk-in appointments are available. You do not need to be a patient at LCHC or have health insurance.
Two trailers were set up along the Blake Street side of the lot directly across from the health center to continue testing this winter. Patients enter the site through the gate across from the Mulberry Street alleyway and enter the first trailer for registration. They will exit the first trailer and proceed to the second trailer for testing. After their test they will exit the second trailer and leave the site through the gate across from the LCHC entrance. Patient movement will be one-way through the site,with plans in place to support social distancing at all times.
LCHC has created a video that helps explains how to make an appointment, what happens when you get to LCHC for your test, & how to access your testing results. Please click here to view the video.
LCHC Coronavirus Updates / informacion sobre covid19
COVID-19 testing times this week at LCHC:
Monday, Wednesday, & Friday: 8:30 am – 4:30 pm
Tuesday: 8:30 am – 7:00 pm
Thursday: 10:00 am – 7:00 pm
OTHER RESOURCES
Testing at Lynn Urgent Care – 776 Western Ave in Lynn

This location accepts MassHealth & tests children. Walk-ins are accepted, but it is recommended to make an appointment. This location is open from 8am-8pm every day, and you can call them at 781-281-7081 for more info. & to set up an appointment.
Testing at CVS on South Common Street in Lynn


Every individual who wants a test must make an appointment by clicking here. Bring proof of identity & in-state residence, as well as test confirmation email/text message. Be sure to have your mobile phone in case we need to reach you. Stay in your car. Minors ages 10-15 will need to be accompanied by an adult. Confirm charge for asymptomatic testing online, before booking your appointment.

Interactive map of COVID-19 testing sites in State of MA


This map provides an easy way to locate a COVID-19 test site near you. Click/tap on a test site within the map for more details. All information is sourced from site operators and healthcare providers, and it is encouraged to contact the site prior to arrival in case it has changed.

Additional resources, although some info. may now be out of date:
The information above was taken from the City of Lynn, Lynn Community Health Center, & State of Massachusetts websites.
---
For phasing details and the most up-to-date status of where MA is in our vaccination timeline please visit mass.gov/covidvaccinephases
---
---
Winter storm impacts region, updates
from City of Lynn
The National Weather Service is forecasting a major winter storm to impact the area today into tomorrow, with high winds and heavy snow predicted. The rain/snow line as well as totals up to 8-12′ are right next to Lynn, so it is currently unknown exactly how much to expect for our city. The City of Lynn is currently under a Winter Storm Warning until Tuesday at 5AM, Gale Warning until Tuesday at 1PM, & a Coastal Flood Advisory until Tuesday at 4PM. This is from the NWS' 4:30AM update:
A major winter storm will produce widespread 7-15″ of heavy, wet snow through tomorrow, with the Cape & Islands receiving lesser amounts. Heaviest snow is expected between noon & midnight, coinciding with today's evening commute so please plan accordingly.
In addition, winds up to 60 mph are possible, especially near the coast. A Coastal Flood Advisory has also been issued for possible minor coastal flooding along the MA East Coast as well as the Cape & Islands.
Click images above for full-resolution images
We will update this part of the post with any and all information we receive for the storm today from the City of Lynn & organizations serving Lynn.

List last updated at 9:15AM on Tuesday, Feb. 2nd

---
City of Lynn Snow Emergency Parking Ban ENDS at 9:00 AM on Tuesday, February, 2. Please remove all vehicles parked in designated City lots by 11:00 AM, Tuesday, February 2. All vehicles still in designated City lots will be subject to ticketing and towing.
All Lynn Public Schools classes & activities are cancelled for Tuesday, February 2nd.
The Lynn DPW and the Fire Department ask residents to clear any catch basins or fire hydrants that are in front of their property if they are able to.
Waste Management Trash and Recycling Collection will be delayed one day this week due to the storm. Trash and Recycling will resume on Wednesday.
Monday's Lynn Parent Advisory Council (PAC) Meeting was cancelled & rescheduled for next Monday, Feb. 8th at 6PM.
Lynn City Hall will be working remotely on Tuesday, February 2.
_______________________________
LCHC on Buffum Street is closed today for testing.
Project Beacon Site is planning to open for testing this afternoon and offer tests from 2-7PM weather pending.
Lynn Tech Vaccination site is closed. No appointments were made available for today once the forecast of the snowstorm came up last week.

_______________________________

The Salvation Army Food Pantry will be closed today. Please see below for info. on updated food pantry times.

_______________________________

Due to the impending snow storm, the Lynn Public Library will postpone the start of their curbside services to Wednesday, Feb. 3. Staff will be working remotely all day on Feb. 2. Staff can be reached by email at lyn@noblenet.org.


_______________________________

MassRMV locations were closed yesterday. Customers who have appointments Monday afternoon can reschedule at

http://mass.gov/RMV

If COVID-19 vaccination locations in MA closed due to weather, locations will reach out to individuals with appointments to reschedule. If you can't safely get to your appointment, you can reschedule. Reach out to your location with questions:

mass.gov/COVIDVaccineMap
---
---

Salvation Army Food Pantry now open Tuesday-Friday
We are happy to announce food pantry will be open 4 days a week now, Tuesday THROUGH Friday! Please only come 1 time a week! Always have proof of address.
Manning Field, 76 Locust St. 1-4pm. Please try to drive or carpool!!!
If you have to walk you need to come with something to carry the food. Drivers need to come with a clean trunk.
The above info. is courtesy of Salvation Army.
Please note that the food pantry may close due to weather, please follow the Salvation Army of Lynn's Facebook page for any updates.

---
---
---
Commuter rail fare reduction pilot for Lynn
extended until June 30th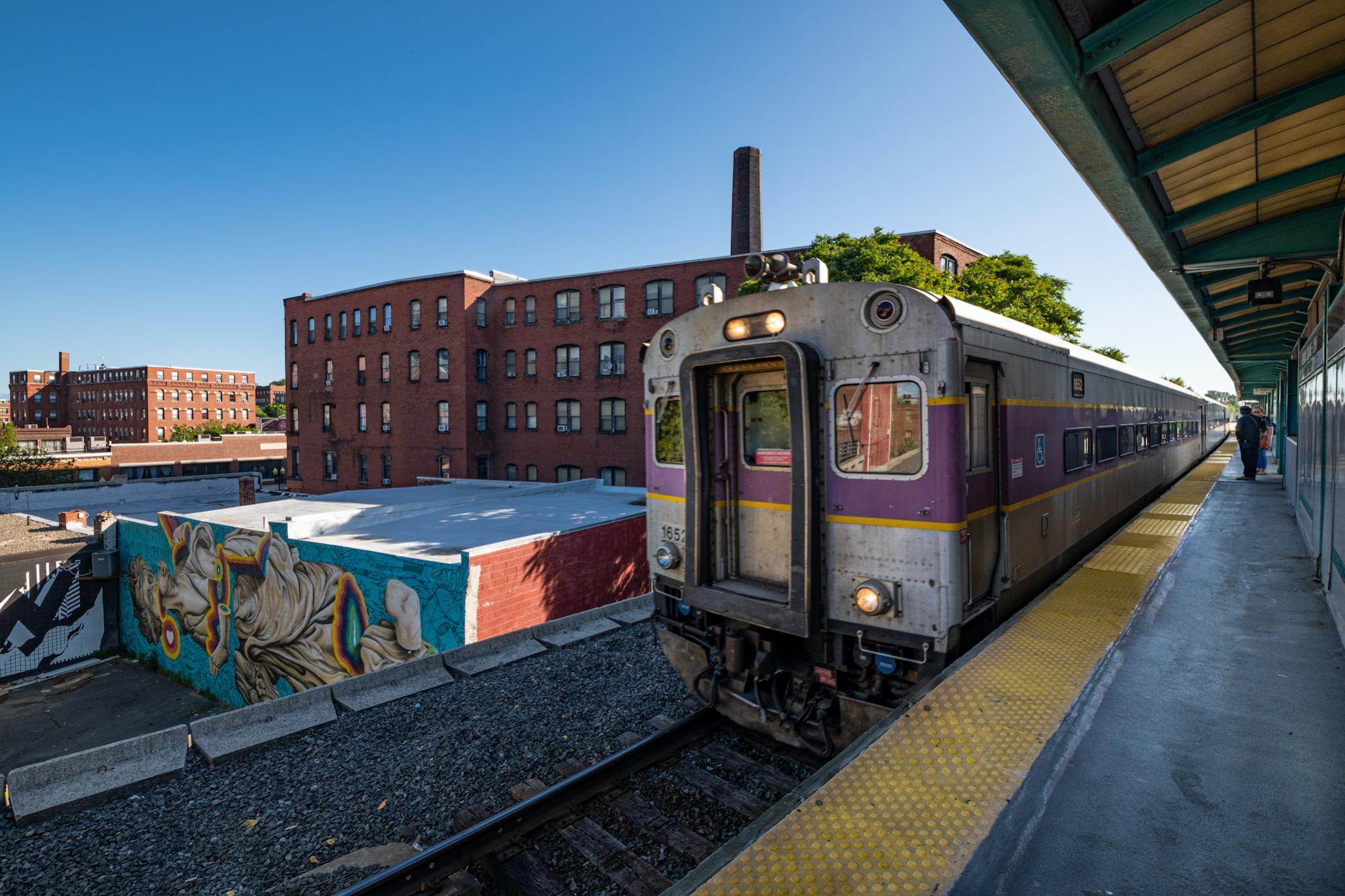 Through June 30, 2021, take the Commuter Rail between North Station and Lynn or River Works for just $2.40, the same price as a Zone 1A or subway fare.
The Lynn Zone 1A pilot aims to create a positive impact on transit equity and improve riders' access to opportunities.
Paying Your Fare
One-way and round trip
Zone 1A tickets are available on mTicket, at fare vending machines, at North Station ticket windows, and onboard trains. Please note they do not include transfers to any other mode.
7-Day LinkPasses
7-Day passes, printed on CharlieTickets, are available at fare vending machines. Includes free transfers to bus or subway. Please note that 7-Day passes on CharlieCards are not valid.
Monthly passes 
Monthly Zone 1A passes (CharlieTickets, Perq passes, and mTicket) are also accepted. Please note that regular CharlieCards are not accepted.
---
---
From Mayor McGee's office: The Lynn Public Health Department has confirmed that as of today, the number of active, confirmed positive COVID-19 cases is 1,820 with 34 new cases today. 12,574 Lynn residents have recovered and 178 have died. The total number of confirmed positive COVID-19 cases in Lynn since March 21, 2020, including those who have died and recovered, is 14,572. Please visit the City of Lynn COVID-19 Data Dashboard which is updated daily.
Please visit http://www.ci.lynn.ma.us/covid19/resources.shtml#p7GPc1_2 for the most up to date COVID-19 testing information, as well as more detailed information on the State and City of Lynn's Reopening Guidelines.
We will continue to provide regular updates on COVID-19 through the City website (www.lynnma.gov), social media, and the Smart 911 emergency notification system (sign up at www.smart911.com).