Tune in at 3pm every Monday, Wednesday, & Friday on our Government Channel or Facebook page for an update from city officials. Past updates can be found by clicking here. At 2pm & 8pm we are also airing Gov. Baker's press conferences.
See other COVID-19 related posts by clicking here.
See our running list of announcements for Lynn by visiting bit.ly/LynnCOVID19.
---
Going forward the weekday updates from city officials will be occurring on Mondays, Wednesday, & Fridays. There will be no 3pm update on Monday due to the holiday.
---
Lynn & Swampscott announce cancellation of the annual 3rd of July fireworks display
In light of the unprecedented times we are experiencing with the COVID-19 pandemic, Lynn Mayor Thomas McGee and Swampscott Town Manager Sean Fitzgerald have jointly made the difficult decision to cancel the traditional 3rd of July Fireworks and parade.
"Given the unparalleled times we are living in and the uncertainty we face, our only option was to cancel the 3rd of July fireworks to ensure our residents remain healthy," said Mayor Thomas McGee. "The safety of our residents has been and will continue to be my top concern during this public health emergency."
"We all will be a bit disappointed that we will not be able to celebrate with our friends, neighbors, and the community at large this year. Yet, we all know that the safety and well-being of our communities and loved ones is the most important treasure we have," said Swampscott Town Administrator Sean Fitzgerald.
The decision is tough for everyone as this event has become one of the most notable celebrations in the Commonwealth but is critical to help prevent the spread of this deadly virus. We would like to thank the Fireworks Vendor Atlas Pyrovision Entertainment Group for their understanding and cooperation with the cancellation of this year's show. We are all looking forward to another great event in 2021.
"Our communities are deeply rooted in history and patriotism and we will continue to celebrate this in years to come. I would like to thank the Fireworks Committee for their tireless work and our residents for their understanding as we work to limit the spread of the COVID-19 outbreak." said Mayor Thomas McGee.
"There is no doubt that the citizens of Lynn and Swampscott love our country and our communities and our traditions so this great event will not go away," Fitzgerald said. "As a Nation, as a Commonwealth, as a City, and as a Town— just know we are looking forward to a time we can all celebrate together as a community."
---
---
Lynn's annual Memorial Day Ceremony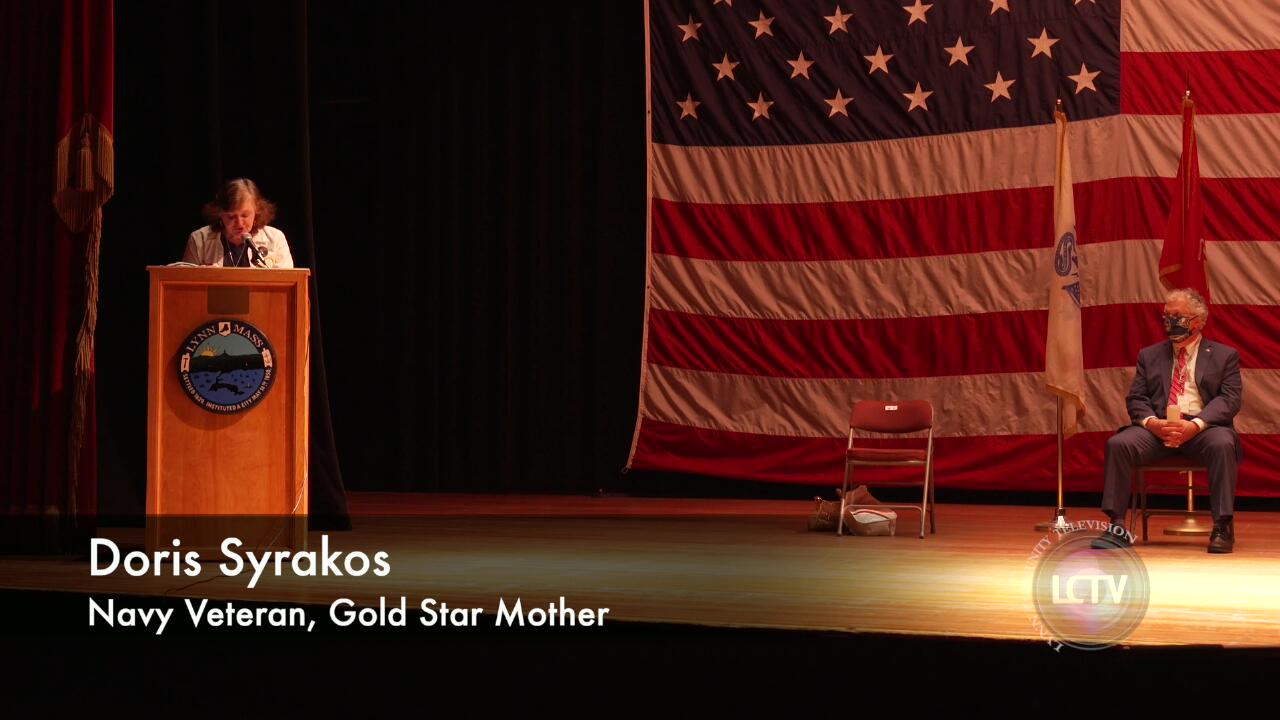 This week the City of Lynn held their annual Memorial Day ceremony in the Lynn Auditorium, without the public due to COVID-19. Director of Veterans Services Mike Sweeney, Gold Star family members, City officials, members of the Lynn state delegation all spoke during this ceremony–which included a reading of names as a Tribute To The Fallen.
You can watch on our Government Channel (Comcast: 22 / Verizon: 37) at 10am, 2pm, & 8pm today thru Friday, May 28th.

You can also watch on our website anytime by clicking here.
---
This Memorial Day Weekend, Lynn residents are invited to join together in a display of patriotism & the American spirit. Residents are encouraged to decorate their front porch, windows or lawn in patriotic fashion to honor the Fallen.
Please share a photo of your tribute to the Fallen to
facebook.com/LynnSwampscottVets.
---
From Mayor McGee's office: The Lynn Public Health Department has confirmed that as of today, the number of active, confirmed positive COVID-19 cases is 1,997 with 21 new cases today. 1,116 Lynn residents have recovered and 86 have died. The total number of confirmed positive COVID-19 cases in Lynn since March 21, 2020, including those who have died and recovered, is 3,199.
We will continue to provide regular updates on COVID-19 through the City website (www.lynnma.gov), social media, and the Smart 911 emergency notification system (sign up at www.smart911.com).
---
MBTA Lowers CharlieTicket and Cash Fare to CharlieCard Levels; Implements Free Bus and Subway Transfers from Zone 1A Fairmount Line Stops and Half-Price Zone 1A Commuter Rail Fares for the Youth Pass
Fare tariff changes come as part of the first phases of Fare Transformation and take effect this fall or upon the commencement of the Fairmount Line Pilot.
As part of their Fiscal Year 2021 budget, the MBTA's Fiscal and Management Control Board yesterday approved customer-driven fare tariff changes that include the lowering of CharlieTicket fares to that of the CharlieCard this fall as well as improvements for Youth Pass holders and for those transferring to rapid transit or buses from Zone 1A Fairmount Line stops.
"These tariff changes represent important initial steps toward a complete transformation of the MBTA's fare system, making the payment process easier and more convenient," said MBTA General Manager Steve Poftak. "Given the challenging circumstances created by the pandemic, these changes – eliminating the CharlieCard-CharlieTicket differential, free bus and subway transfers for Zone 1A Fairmount Line stops, reduced Zone 1A fares for Youth Pass holders – allow the T to continue to best meet the needs of our riders through incremental, phased improvements."
As part of the first phases of the MBTA's Fare Transformation program, which aims to make paying for transit easier and more convenient, yesterday's approvals mean that the differential between CharlieCard and CharlieTicket/cash fares will be eliminated in fall 2020, lowering CharlieTicket and cash fares to CharlieCard levels. All fare payments will be the same, regardless of whether a customer is using a CharlieCard, CharlieTicket, or cash: $1.70 for local bus (a $0.30 reduction for those using CharlieTicket/cash), $4.25 for inner express bus (a $1 reduction for those using CharlieTicket/cash), $5.25 for outer express bus (a $1.75 reduction for those using CharlieTicket/cash), and $2.40 for rapid transit (a $0.50 reduction for those using CharlieTicket/cash).
Yesterday's approval also allows for free bus transfers from Zone 1A Fairmount Line stations as well as free transfers to the subway at South Station – customers will no longer need to pay an additional fare to board the bus or enter the fare gates at South Station. Through the use of CharlieCard readers at stations, these improvements will go into effect upon the commencement of the Fairmount Line Pilot.
This approval also grants Youth Pass holders with the eligibility for half-price Zone 1A Commuter Rail tickets, using the Fairmount validators, at ticket windows and onboard trains. The Youth Pass Program is a partnership between the MBTA and participating cities and towns that offers young adults with low income roughly 50% reduced one-way fares or $30 monthly LinkPasses currently on bus and subway only. Upon the commencement of the Fairmount Pilot, Youth Pass holders can access Zone 1A stations for the reduced price.
Additional anticipated improvements to come as part of Fare Transformation's phased approach include:
Deploying fare vending machines that dispense CharlieCards;
All-door boarding on MBTA buses and surface stops along the Green Line;
Integrating ferries and the entire Commuter Rail network into the CharlieCard system.
For more information, please visit mbta.com or connect with the T on Twitter @MBTA, Facebook /TheMBTA, or Instagram @MBTApics.
---
Help determine housing goals & strategies for Lynn
Residents encouraged to participate in an online open house in May to give input on the future of housing in Lynn
Help the City of Lynn develop a community-driven plan to promote housing opportunity for all. The City and the Lynn Housing Authority & Neighborhood Development, with the support of the Metropolitan Area Planning Council (MAPC), are setting housing goals and policies through "Housing Lynn: A plan for inclusive growth." Based on community input on housing challenges in Lynn provided this past fall and winter, the project team has drafted housing goals and strategies to advance them. Your voice is needed to ensure these objectives are responsive to the needs of all corners of this diverse community, including renters and homeowners, families and those living alone, and folks of different ages, backgrounds, and income levels.
In light of the social distancing needed during the COVID-19 outbreak, an online open house will launch on Friday, May 22, at 9 a.m., to provide the community the opportunity to review analysis of housing challenges and give input on a vision for the future of Lynn's housing, housing goals, and strategies to advance them. The open house will be live for approximately two weeks, until Monday, June 8, at 5 p.m., to give residents time to engage in this phase of the Housing Lynn process. You can participate here: mapc.ma/housing-lynn-ooh.
"Moving forward with the work on this plan is especially challenging during this unprecedented time, but now more than ever do we, as a community, need to focus on those with vulnerable housing situations," said Mayor Thomas M. McGee. "I encourage all residents to participate in this virtual open house and continue to provide their input in this important process."
Feedback via the open house, in addition to analysis of housing needs and development constraints and opportunities, will inform plan recommendations. Following the open house in June, there will be a webinar for residents to hear from and ask questions of experts in market-rate and Affordable Housing development. Later in the process, there will be engagement around zoning for residential development that advances plan goals and then the opportunity to give input on the plan itself.
"The Lynn Housing Authority & Neighborhood Development with this administration has worked diligently over the last year to engage residents to address our housing needs, and we remain committed to this process and hearing from everyone," said Charles Gaeta, LHAND Executive Director. "These opportunities for community input are critical to shaping the right plan for the city."
More information about Housing Lynn and this online open house can be found at the plan website: mapc.org/housing_lynn. Residents can participate in the open house here: mapc.ma/housing-lynn-ooh.
For more information about the project, contact Karina Milchman, Chief of Housing + Neighborhood Development at MAPC, kmilchman@mapc.org or Jeff Weeden, of the Lynn Housing Authority & Neighborhood Development, at jweeden@lhand.org.