LYNN NEWS ROUND-UP
DECEMBER 14, 2020
See our other COVID-19 related posts by clicking here.
---
6PM UPDATE: Mayor McGee announces City of Lynn to return to modified Phase 2, Step 2 this Friday, December 18th. Click here to read more.
---
As a reminder: New measures were enacted throughout the state of MA yesterday to battle COVID-19. See more details by clicking here.
---
Mayor McGee & Lynn Police Association Reach Agreement for Patrol Officers to Wear Body Cameras
Mayor Thomas M. McGee and the Lynn Police Association have reached an agreement to institute body cameras for members of the Lynn Police Department, with an anticipated implementation date of Monday, February 1, 2021. This agreement is a direct result of months of dialogue with many stakeholders on how to achieve racial and social justice as well as the need for more transparency and accountability for interactions between civilians and police.
"City officials heard the community's call regarding certain changes that need to be made in order to ensure our system is more just for all. Today's agreement is a step in the right direction towards creating a more equitable Lynn for our residents," said Mayor Thomas M. McGee. "I am grateful to the Lynn Police Association for their collaboration and willingness to act quickly with the City once we submitted this proposal. I strongly believe the use of body cameras will create a safer and more transparent environment both for members of the general public and Lynn Police officers."
Per the policy, officers who are assigned on patrol units will record all contact with civilians in the following occurrences: vehicle stops, investigation person stops, all dispatched calls for service involving contact with civilians, initial responses by patrol officers to calls, transport of prisoners, pat frisk and searches of persons incident to arrest, incidents of emergency and pursuit driving, when an officer reasonably believes a crowd control incident may result in unlawful activity, any adversarial contact, including a use of force incident.
"I think it will improve trust in our department in the community," said Interim Chief of Police Lenny Desmarais. "I also think it will show the respect officers treat people with and the restraint they practice in very difficult situations."
"The Lynn Police Association recognizes that body worn cameras are a necessary tool in this era of police reform," said Timothy Donovan, President of the Lynn Police Association. "The men and women of the Lynn Police Department are diligent police officers who perform their duties every day to the highest of standards in the policing profession. Body cameras can be an unbiased witness that will provide transparency in all situations."
In order to fund the use of body cameras, the Lynn City Council will be asked to authorize a transfer from the City's Reserve Account to the Police Account for the purchase of the body camera system. The anticipated annual cost is approximately $250,000 along with the cost associated with the negotiated $400 stipend for each member of the Lynn Police Association, totaling approximately $75,000 a year. The City of Lynn will use a contracted vendor through a
cooperative purchasing agreement that complies with the policy and technology that the Department currently has. Once the contract is signed with the vendor of the body camera system, all officers will be trained in the use of the equipment by the vendor for the goal of program launch on February
---
---
COVID-19 testing in Lynn this week
The City of Lynn has been selected to be a part of the state's "Stop the Spread" Initiative. The program began on, Friday, July 10th and has been extended until December 31st, 2020. 
LYNN COMMUNITY HEALTH CENTER
Testing for COVID-19 is available for everyone in the Greater Lynn Community at Lynn Community Health Center.  You may be tested regardless of your symptoms or exposure to COVID-19.  Call 781-581-3900 for an appointment.  Appointments are strongly recommended, limited walk-in appointments are available. You do not need to be a patient at LCHC or have health insurance.
Two trailers were set up along the Blake Street side of the lot directly across from the health center to continue testing this winter. Patients enter the site through the gate across from the Mulberry Street alleyway and enter the first trailer for registration. They will exit the first trailer and proceed to the second trailer for testing. After their test they will exit the second trailer and leave the site through the gate across from the LCHC entrance. Patient movement will be one-way through the site,with plans in place to support social distancing at all times.
LCHC Coronavirus Updates / informacion sobre covid19
LYNN COMMUNITY HEALTH CENTER WILL EXTEND COVID TESTING HOURS THIS WEEK. MONDAY, DEC. 14 – THURSDAY, DEC. 17TH TESTING WILL OCCUR FROM 8:30AM – 7PM.
Regular hours for testing at other times are as follows:
Monday, Tuesday, Wednesday, Friday from 8:30am – 12pm / 1pm – 4:30pm
Thursday from 10am – 12pm / 1pm – 4:30pm / 5pm – 7pm
Saturday & Sunday from 12:15pm – 4:30pm
_________________________
FALLON AMBULANCE
Testing is available, walk-up only, at the following times & locations:
Parking lot at Lynn English High School

Mon – Sat from 8:00 AM until 2:00 PM

Parking Lot behind Fire Station at 725 Western Avenue, off of Federal St.

Mon – Sat 12:00 Noon until 6:00 PM

Residents who have been tested for COVID-19 through Fallon Ambulance can call 617-765-0176 with any questions related to your COVID-19 test results.
_________________________
OTHER RESOURCES
Testing at CVS on South Common Street in Lynn


Every individual who wants a test must make an appointment by clicking here. Bring proof of identity & in-state residence, as well as test confirmation email/text message. Be sure to have your mobile phone in case we need to reach you. Stay in your car. Minors ages 10-15 will need to be accompanied by an adult. Confirm charge for asymptomatic testing online, before booking your appointment.

Interactive map of COVID-19 testing sites in State of MA


This map provides an easy way to locate a COVID-19 test site near you. Click/tap on a test site within the map for more details. All information is sourced from site operators and healthcare providers, and it is encouraged to contact the site prior to arrival in case it has changed.

Additional resources:
The information above was taken from the City of Lynn, Lynn Community Health Center, & State of Massachusetts websites.
---
Monday morning storm briefing from National Weather Service

Only minor snow accumulations expected this afternoon, generally a coating to an inch with a few locations possibly near 2 inches. Much of this will accumulate on non paved surfaces, with main roads remaining wet as temps will be at or above freezing.
Here's the latest on the potential winter storm for Wednesday night and Thursday, from the National Weather Service's Boston branch:
Storm track is still not clear. If it passes farther offshore than shown in the map below, it would produce the most snow along the south coast, Cape Cod, and Islands with less snow farther to the north. A closer track would bring heavy snow to most of southern New England.
The map below shows where we are most confident in seeing 6 inches of snow or more right now. This area may shift north or south in later forecasts.
Minor coastal flooding is expected during high tide Thursday afternoon along the eastern Massachusetts coast. There is a low chance of seeing moderate flooding, primarily from Plymouth County to the bay side of Cape Cod, but that is unlikely right now.
Click images below for full-resolution graphics.
Information and graphics taken from NWS-Boston's Facebook page.
---
Click images above for info. on immigration rights presentation this week.
---
"Lend A Paw" dog winter clothing drive

Who's excited that the holidays are just a couple of weeks away?! I know we are! Because this holiday season we are collecting Sweaters, Coats, Jackets, Etc.. and giving them away to dogs in need!
We are happy to announce the •LEND A PAW• DROP OFF LOCATION FOR ALL DONATIONS, WILL BE 32 Den Quarry Rd. Lynn, MA
Any donation at all would be absolutely appreciated new & used is acceptable, does not have to be wrapped in anything, bag etc. all donations will be placed/dropped into a bin/bucket located on the porch at the above address, more information will be posted later on (more detailed description on the location/drop off bin)
Clean is always preferred however all items will be washed and sanitized before handed to another person for their dogs.
All items will be given out throughout the duration of the drive and a count will be kept of all donations, if you'd like to you can put your name on a card or piece of paper in the bin as well.
At the end of January we will place a raffle with the names of everyone who donated and that person will receive ONE free hour of services* – Winner will be announced February 1st, 2021.
Let's see that holiday spirit and spread the gift of giving by Lending A Paw
---
---
Donations set up for victims of Friday's fire on Warren Street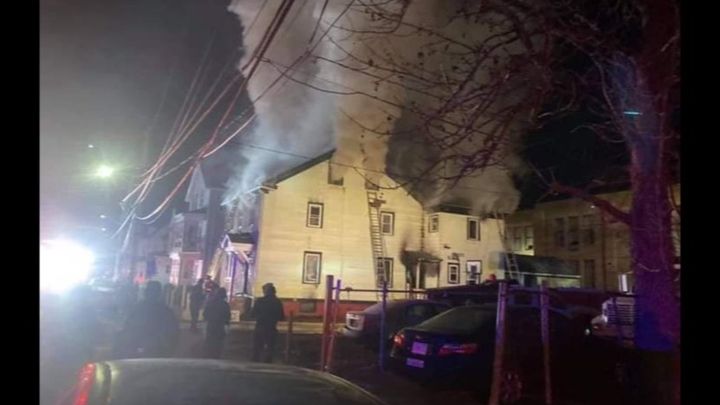 On the morning of Friday, December 11th a multi-family home on Warren St. in Lynn was destroyed by a fire. 4 adults & 6 children were displaced and lost everything.
Gift cards, new clothing, money, and more are being asked for the families affected. The sizes for clothing are in an image below, shared by Ward 6 Councilor Fred Hogan.
Councilor Hogan also shared how Lynners can help. A GoFundMe has been sey up by the owner of the home, Antulio Lopez. The goal was $10,000 and as of Monday morning just over $7,000 has been raised, with donations still being made.
Lopez is also looking for donations of new clothes and gift cards. Please contact his brother Ronnie via text at 781-913-4404 to set up delivery to 73 Urban Street.
Special thanks to Ward 6 Councilor Fred Hogan for the above info.
---
---
From Mayor McGee's office: The Lynn Public Health Department has confirmed that as of today, the number of active, confirmed positive COVID-19 cases is 1,766 with 92 new cases today. 7,593 Lynn residents have recovered and 144 have died. The total number of confirmed positive COVID-19 cases in Lynn since March 21, 2020, including those who have died and recovered, is 9,503. Please visit the City of Lynn COVID-19 Data Dashboard which is updated daily.
The City of Lynn is hosting a Tele Town Hall on COVID-19 on Thursday, December 17that 7:00PM. Mayor Thomas McGee and Public Health Director Michele Desmarais will be joined by several medical experts from Lynn Community Health Center, North Shore Medical Center and North Shore Physicians Group.
Residents will receive a phone call from the City of Lynn at 7:00PM on Thursday evening and should remain on the line to join the town hall. There will be two simultaneous events offered, one in English and one in Spanish. For those residents who want to join the Spanish Town Hall, they will be offered the option to do so throughout the call. You can join the town halls at the following links:
Join English Town Hall: https://video.teleforumonline.com/video/streaming.php?client=20106
Join Spanish Town Hall: https://video.teleforumonline.com/video/streaming.php?client=20350
EDITOR'S NOTE: LCTV will be released a video of both meetings after we receive the recording.
Stop the Spread Initiative Testing have been extended until December 31st
Please visit http://www.ci.lynn.ma.us/covid19/resources.shtml#p7GPc1_2 for more information on how you can get a free COVID-19 test in the City of Lynn until December 31st.
We will continue to provide regular updates on COVID-19 through the City website (www.lynnma.gov), social media, and the Smart 911 emergency notification system (sign up at www.smart911.com).