LYNN NEWS ROUND-UP
OCTOBER 12, 2020
See our other COVID-19 related posts by clicking here.
---
Check out our 2020 MA State Election Coverage with campaign interviews, voting information, & more by clicking here.

---
My Brother's Table to Hold Virtual Walk November 1-15
Local Soup Kitchen, which has seen a dramatic increase in meals served, to raise much-needed funds.
My Brother's Table Soup Kitchen (MBT), located in Lynn, MA, will hold its 39th Annual Walk virtually this year.  The virtual Walk appropriately named Walk Your Block encourages participants to walk safely in their own neighborhoods, any distance, during the first two weeks of November to help raise money to feed their neighbors.
Every registered walker will be entered into a raffle to win a $250 Amazon Gift Card!  Prizes for top fundraisers, photo contest, and more!  Register yourself, form a team, sponsor someone, or find more Walk details at www.mybrotherstable.org/walk.  Your steps will help My Brother's Table serve over one half million meals this year.
Since 1982, MBT, the largest soup kitchen on the North Shore, has served over four million free, hot meals to men, women, and children in need. Amid the COVID-19 pandemic, the need has grown exponentially. Since the start of 2020, MBT has already served 415,939 meals, which is more than double of that served in all of the previous calendar year.  Without interruption, MBT continues its mission to nourish neighbors everyday through hospitality, free meals, and unconditional love.  MBT remains independent of federal funding to ensure the privacy of guests and to serve the greatest number of people in need.  Funding comes from individual donations, events, and private grants.
The above press release was provided to us by My Brother's Table.
---
---
Utility Financial Assistance Webinars
Click images below for full-resolution fliers in different languages.

---
Lynn Museum's "Second Saturdays" & "Votes for Women: A Portrait of Persistence" exhibit

Join us the second Saturday of each month from 11am-3pm to view our latest exhibitions, enjoy our outdoor spaces, grab a take-home art kit for the family, and purchase one-of-a-kind Lynn merchandise in our shop.
Thank you to Eastern Bank & Eastern Bank Charitable Foundation for sponsoring this program.
________________________________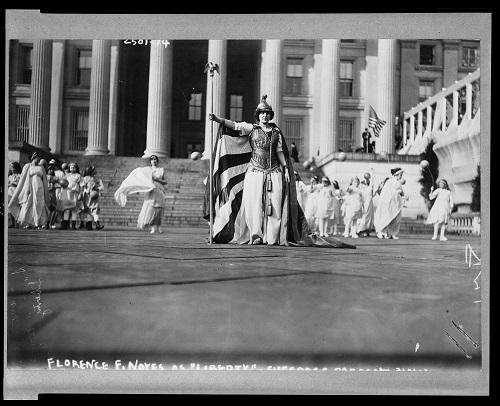 The story of women's suffrage is a story of voting rights, of inclusion in and exclusion from the franchise, and of our civic development as a nation. Votes for Women: A Portrait of Persistence, a poster exhibition from the Smithsonian, celebrates the 100th anniversary of the Nineteenth Amendment and explores the complexity of the women's suffrage movement and the relevance of this history to Americans' lives today.
Based on the National Portrait Gallery exhibition of the same name, Votes for Women seeks to expand visitors' understanding of the suffrage movement in the United States. The poster exhibition addresses women's political activism, explores the racism that challenged universal suffrage, and documents the ratification of the Nineteenth Amendment which prohibits the government from denying U.S. citizens the right to vote on the basis of sex. It also touches upon the suffrage movement's relevance to current conversations on voting and voting rights across America.
Votes for Women: A Portrait of Persistence is organized by the Smithsonian Institution Traveling Exhibition Service in collaboration with the National Portrait Gallery. This project received support from the Smithsonian American Women's History Initiative.
This temporary display is located in our second floor gallery. There is currently no end date.
________________________________
HOURS OF OPERATION:
Monday: Closed
Tuesday: By appointment only
Wednesday: By appointment only
Thursday: 10am-4pm
Friday: 10am-4pm
Saturday: Open Second Saturdays only (info above)
Sunday: Closed
The above information was provided by Lynn Museum.
---
---
Virtual mentoring & virtual workshops for parents/expectant parents now available
Centerboard
& the
Lynn Family Forward Resource Center
will be holding virtual mentoring & workshops for caregivers of young children & expectant parents. Their other events this month can be found by clicking here.

Click images above for full-resolution fliers
---
Video from last week's COVID-19 Tele Town Hall with Mayor McGee & health professionals



Mayor Tom McGee's office shared a recording with us of the COVID-10 Tele Town Hall from this last week. Mayor McGee was joined by City of Lynn Public Health Director Michele Desmarais, Dr. Clark Van Den Berghe from Lynn Community Health Center, Chief Medical Officer of North Shore Medical Center Dr. Mitch Rein, & Infectious Disease Specialist Dr. Barbara Lambl from North Shore Medical Center. They answered some questions from the thousands who listened in, and provided some useful COVID-19 information.
For information about testing for COVID-19 & more in Lynn please click here.
Watch the full Town Hall video below from our website: